In a world that's becoming increasingly health-conscious, plant-based diets have gained significant popularity. With a focus on whole foods derived from plants, these diets offer a wide array of health benefits that extend beyond just nutrition. Let's explore the health benefits of plant based food.
1. Weight management is more beneficial with a plant-based diet
There is some evidence that people who eat vegan food have a lower body mass index (BMI) and lower obesity, diabetes, and heart disease rates than people who consume meat.
As well as being high in fiber and complex carbohydrates, plant-based diets are also high in water, which is another benefit of eating a plant-based diet. It is thought that people may benefit from this if it keeps them feeling full for longer as well as giving them more energy while they are sleeping.
According to a recent study, some researchers surveyed 75 people who were considered overweight or who were obese on the basis of random selection, half of whom were asked to replace meat with plant-based and mock meat, while others were asked to continue eating the normal diet, which included meat.
As a result :
There was only a noticeable weight loss among those people who consumed vegan food as part of their diet. The group that consumed mock meat lost a greater amount of fat mass, as well as improved their insulin sensitivity, compared to the group that ate a regular diet consisting of animal meat.
Do you know that according to the American Heart Association, consuming more plant-based foods may help to reduce your risk of getting some of the following: 
High cholesterol

High blood pressure

Stroke

Type 2 diabetes

Diabetes prevention and treatment

Obesity

Certain cancers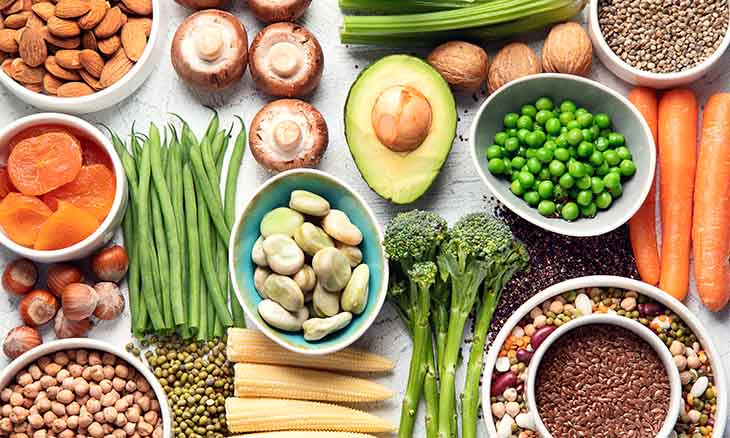 2. The benefits of plant-based food for patients:
In order to help patients live healthier lifestyles, doctors recommend eating whole, plant-based foods with limited meat and dairy. Plant-based meat in India may lower blood pressure, HbA1C, body mass index, and cholesterol levels, according to some research. 
According to the same study, vegetarians need fewer medicines to treat chronic diseases, and their chances of dying from ischemic heart disease are lower. 
 People with high blood pressure, diabetes, cardiovascular disease, or obesity should follow a plant-based diet. 
3. The taste and texture of plant-based food is better:
A variety of tastes and textures are available in plant-based commodities. Vezlay Foods is a product that is designed to resemble, taste, and cook like real meat, which is why it is a great product for those who are looking for a product that resembles, tastes, and cooks like meat. 
In some cases, individuals, especially vegans, are turned off by products that look and taste just like real meat and have the same properties. It may be easier for them to tolerate grain- or bean-based veggie burgers because they are more filling.
There are many ways to get started eating plant-based meat in India, below are some tips to assist you to get started on a plant-based diet in India.
Lunch and dinner are the ideal times for you to eat a variety of vegetables or mock meat on your plate. In choosing your vegetables, it is important to make sure that you include plenty of colors in your selection. You can enjoy plant-based meat products as a snack with vegetables as a snack. As a result, you will be able to consume plenty of vegetables and stay healthy at the same time.

Transform the way you think about animal meat by changing the way you approach it. It is best to take the food in smaller portions at first. Instead of using it as a main dish, use it as a garnish.

By incorporating whole grains as part of your breakfast meal, you are able to increase your intake of good fats and protein. It is recommended that you begin by eating oatmeal, quinoa, buckwheat, or plant-based meat as the base of your diet. Add some nuts or seeds to the fresh fruit, and then add some nuts or seeds to the fresh fruit.

Make a salad the centerpiece of your meal. A bowl should be filled with salad greens, a few pieces of plant-based meat such as Romaine lettuce, spinach, Bibb, or any other greens that are red and leafy. You can also add other vegetables such as beans, peas, tofu, or mock meat along with fresh herbs, herbs, and beans.
4. Clearer Skin With Plant-Based Food
A diet rich in fruits and vegetables provides essential vitamins and antioxidants that contribute to healthy, glowing skin. These nutrients help combat oxidative stress and inflammation, reducing the occurrence of skin issues like acne and premature aging.
The popularity of vegan food companies is on the rise. In addition to improving your heart health, reducing your weight, and reducing your risk of chronic diseases, vegan meat offers a number of health benefits.
According to research, vegan foods are also more environmentally friendly than their non-vegan counterparts. For those who would like to embrace plant-based food and ensure that they get sufficient amounts of vital nutrients in their diets, they will need to plan their meals carefully to ensure that they get enough.
As a result, we are innovating to produce delicious, plant-based food that is more suitable for people, animals, and our planet as a whole. Providing a merciful alternative to traditional meat in a way that does not sacrifice flavor without sacrificing quality. Making the world's food system more sustainable is one of my main goals. 
The future of food is evolving by creating scalable, affordable, and convenient products that can be consumed by everyone. The consumption of plant-based proteins is associated with a reduced risk of inflammation, a reduced risk of heart disease, a reduced risk of cognitive impairment and dementia, as well as a lower carbon footprint. Additionally, it lowers the risk of Type 2 diabetes and improves the function of the kidneys. As a result, it helps to lower the levels of bad cholesterol, as well as improve the health of the gut.
The most important point here is that in the current world of inflation and starvation, a plant-based diet is the best and fastest-growing alternative due to its cost-effectiveness, healthiness, safety, and environmental friendliness. It can also be adapted to satisfy the taste and texture of real meat.
A plant-based meat product can provide nourishment as well as environmental benefits to all populations. However, to maintain food regulation and food self-determination, we need to change economic inequalities that cause poor nutrition, and work to create a global food system where people are able to take advantage of the advantages of plant-based foods that are sectionally appropriate for all.

Vezlay Foods is the leading Vegan food and plant based products company in India which manufactures products made from plant materials, so they closely resemble the taste and smell of animal meat in every way. From their appearance to their taste, Vezlay Foods produces products that take every detail of animal meat into account.