Hey there foodies! Are you ready to tantalize your taste buds with a scrumptious and healthy dish? Look no further, because today we're diving into the world of Soya Chaap Biryani!  This vegetarian delight is packed with flavor and will leave you wanting more. So, what exactly is Soya Chaap Biryani? In the world of Indian cuisine, biryani stands as a regal dish, celebrated for its aromatic spices and mouthwatering flavors. While traditional biryanis often feature meats like chicken, mutton, or seafood, vegetarians need not miss out on this delicious food. Enter "Soya Chaap Biryani," a vegetarian twist on the classic biryani that's packed with protein and bursting with flavors. In this article, we will explore how to prepare this delectable Soya Chaap Biryani step by step. 
What is Soya Chaap Biryani?
Before we dive into the recipe, let's understand the star ingredient – Soya Chaap Biryani. These are protein-rich chunks made from soybean flour, and they have a unique texture that resembles meat. Soya Chaap Biryani is an excellent source of protein for vegetarians and a versatile ingredient for various dishes. You can choose Vezlay Soya Chaap which is highly moisture texturized with soya chop. Either you can use easily Vezlay Soya Chikka Biryani.
Ingredients You'll Need for Soya Chaap Biryani
To get started, gather the following ingredients:
For Marination For Soya Chaap Biryani
200g Vezlay Soya Chaap
1 cup yogurt
1 tablespoon ginger-garlic paste
1/2 teaspoon red chili powder
1/2 teaspoon turmeric powder
Salt to taste
Biryani Rice For Soya Chaap Biryani
1.5 cups Basmati rice
2-3 cloves
2-3 green cardamom pods
1-inch cinnamon stick
1 bay leaf
Salt to taste
Biryani Masala For Soya Chaap Biryani
2 onions, thinly sliced
2 tomatoes, chopped
1/2 cup fresh coriander leaves, chopped
1/2 cup fresh mint leaves, chopped
1/2 teaspoon cumin seeds
1/2 teaspoon garam masala
1/2 teaspoon biryani masala
2 tablespoons cooking oil
Ghee for richness (optional)
Also Check :- Chicken Curry Recipe in Hindi
The Cooking Process For Soya Chaap Biryani
1. Marinating the Soya Chaap Biryani
Open the pack of Vezlay Soya Chaap Biryani and cut into small piece.  
In a bowl, mix yogurt, ginger-garlic paste, red chili powder, turmeric powder, and salt.
Add the soaked Soya Chaap to the marinade, ensuring they are well-coated. Let it sit for at least 30 minutes.
2. Preparing the Biryani Rice For Soya Chaap Biryani
Rinse the Basmati rice thoroughly and soak it in water for 30 minutes.
In a large pot, add water, cloves, green cardamom pods, cinnamon stick, bay leaf, and salt.
Drain the soaked rice and add it to the pot. Parboil the rice until it's 70% cooked. Drain and set aside.
3. Cooking the Biryani Masala for Soya Chaap Birynai
Heat oil in a deep pan. Add cumin seeds and let them splutter.
Add sliced onions and sauté until they turn golden brown.
Stir in the chopped tomatoes, garam masala, biryani masala, and cook until the oil separates.
Add the marinated Soya Chaap and cook for 5-7 minutes.
Mix in the chopped coriander and mint leaves.
ake a heavy-bottomed vessel and start layering. Begin with a layer of cooked rice, followed by the Soya Chaap mixture.
Repeat the process until all the rice and Soya Chaap are used up.
If desired, drizzle some ghee between the layers for added richness.
Cover the vessel with a tight-fitting lid or aluminum foil.
Place it on a low flame and let it cook on dum (slow steam) for 20-25 minutes.
Ensure a tight seal to trap the flavors inside.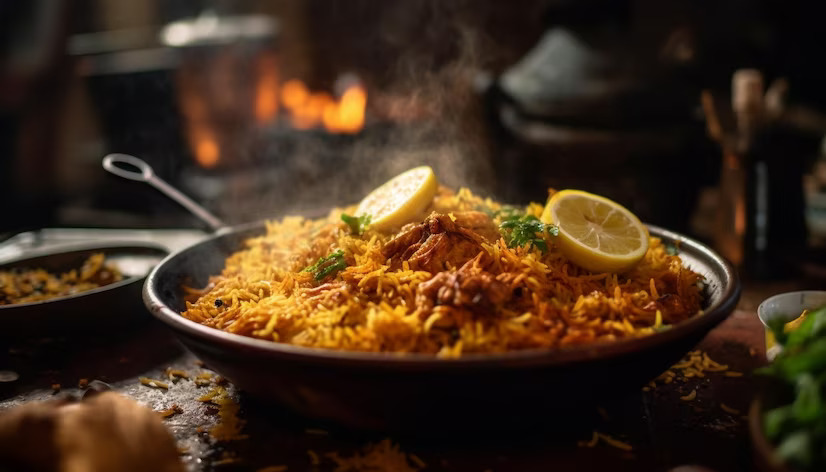 Soya Chaap Biryani is a delightful and protein-packed variation of the traditional biryani. The aromatic spices, combined with the unique texture of Soya Chaap, create a symphony of flavors that will leave you craving for more. Whether you're a vegetarian or simply looking to try something new, this biryani recipe is a must-try.
1. Can I use frozen Soya Chaap for this recipe?
Absolutely! Just make sure to thaw and marinate them properly before cooking.
2. Is Soya Chaap Biryani spicy?
You can adjust the spice level to your preference by controlling the amount of chili powder and masala you use.
3. Can I substitute brown rice for Basmati rice?
While Basmati rice is traditionally used for biryani, you can use brown rice for a healthier twist.
4. What side dishes go well with Soya Chaap Biryani?
Raita, salad, and a mint-coriander chutney are great accompaniments to enhance the meal.
5. Can I prepare Soya Chaap Biryani in advance?
Yes, you can make the layers in advance and cook it on dum just before serving for the freshest taste.
Enjoy your Soya Chaap Biryani, and savor the rich flavors of this vegetarian masterpiece!