Introduction to Veg Chicken
In recent years, the demand for plant-based alternatives to meat has been steadily increasing, with more people embracing a vegetarian or vegan lifestyle. One such popular meat substitute is "Veg Chicken." This article will explore the concept of Veg Chicken, its popularity, health benefits, and how to prepare it at home.
Veg Chicken is a plant-based protein that replicates the taste, texture, and appearance of real chicken. It is made from a combination of soy protein, wheat gluten, and various spices that give it a savory and mouthwatering flavor. The goal of Veg Chicken is to provide a cruelty-free and sustainable alternative to traditional chicken for individuals seeking meatless options.
The Popularity of Veg Chicken
The popularity of Veg Chicken has surged in recent years due to several factors. Firstly, the rise in environmental awareness has encouraged many people to reduce their meat consumption to lower their carbon footprint. Secondly, health-conscious individuals are turning to Veg Chicken as it is a healthier option compared to regular chicken, which often contains high levels of saturated fat and cholesterol.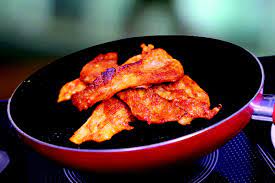 Health Benefits of Veg Chicken
Veg Chicken is a nutrient-dense food, providing a good amount of protein, vitamins, and minerals. It is an excellent source of iron, calcium, and B-vitamins, making it a valuable addition to a balanced diet.
Unlike traditional chicken, Veg Chicken is low in saturated fat, which is beneficial for heart health. It offers a guilt-free indulgence for those looking to enjoy a chicken-like experience without compromising their well-being.
Suitable for Vegetarians and Vegans
Veg Chicken is entirely plant-based, making it suitable for vegetarians and vegans who seek meat alternatives without compromising their dietary choices or ethics.
Best Brands Offering Veg Chicken Products
Several renowned brands have introduced a wide range of Veg Chicken products, including ready-to-cook strips, nuggets, and burgers. Some of the top brands include buy from my point of view Vezlay Foods is one of the best Vegan food products company in India who manufacture Veg Chicken.
Read Also :- Disadvantages of eating non veg
How to Make Veg Chicken at Home?
Making Veg Chicken at home is a rewarding culinary experience. Here's a simple recipe to try:
Ingredients
1 cup soy protein granules
1/2 cup vital wheat gluten
1/4 cup nutritional yeast
2 tablespoons chickpea flour
1 tablespoon garlic powder
1 tablespoon onion powder
1 tablespoon soy sauce
1 cup vegetable broth
2 tablespoons olive oil
Salt and pepper to taste
Cooking Method
In a large bowl, mix the soy protein granules, wheat gluten, nutritional yeast, chickpea flour, garlic powder, onion powder, salt, and pepper.
In a separate bowl, whisk together the vegetable broth, soy sauce, and olive oil.
Pour the wet mixture into the dry ingredients and knead until a dough forms.
Divide the dough into small pieces and shape them into chicken-like strips or nuggets.
Steam the Veg Chicken pieces for 30 minutes to set the texture.
Once steamed, you can use Veg Chicken in various recipes or pan-fry for a crispy texture.
Vezlay Veg Chicken Recipe
Step 1 :- Bring it to normal temperatures
Step 2 :- Than remove from packet
Step 3 :- Cut into small pieces
Step 4 :- Take a fry pan and add butter,
Step 5 :- Deep fry it until lights golden brown
Note :- Do not over fry, otherwise the taste will effected.
Popular Veg Chicken Recipes
A delightful and aromatic curry made with Veg Chicken, vegetables, and a blend of Indian spices. Serve it with rice or naan for a satisfying meal.
Quick and easy to prepare, a Veg Chicken stir-fry with colorful vegetables and a tangy sauce is a perfect weeknight dinner option.
Create a delectable sandwich using Veg Chicken slices, lettuce, tomatoes, and your favorite condiments for a hearty and wholesome meal.
Veg Chicken vs. Traditional Chicken
Veg Chicken has come a long way in terms of taste and texture, and many people find it surprisingly similar to traditional chicken. The flavorful seasoning and meat-like consistency make Veg Chicken an appealing choice for meat enthusiasts and vegans alike.
Producing Veg Chicken has a significantly lower environmental impact compared to conventional chicken farming, as it requires fewer resources, produces fewer greenhouse gas emissions, and avoids animal cruelty.
The Future of Veg Chicken
As the demand for sustainable and cruelty-free food options grows, the future of Veg Chicken looks promising. With ongoing advancements in plant-based food technology, we can expect even more realistic and delicious Veg Chicken products in the coming years.
Veg Chicken offers a tasty and eco-friendly alternative to traditional chicken. Packed with nutrients and free from saturated fat, it caters to the needs of health-conscious consumers. Whether you're a vegetarian, vegan, or someone looking to reduce their meat consumption, Veg Chicken provides a versatile and delectable option for a variety of dishes. 
1. Is Veg Chicken suitable for people with gluten intolerance?
Yes, Veg Chicken can be made gluten-free by using alternative flours like chickpea flour or rice flour instead of wheat gluten.
2. Are Veg Chicken products readily available in supermarkets?
Yes, many supermarkets now stock a wide range of Veg Chicken products in their frozen or vegan sections.
3. Can Veg Chicken be used in place of real chicken in recipes?
Absolutely! Veg Chicken can be used as a substitute in various recipes, from curries to sandwiches and stir-fries.
4. Is Veg Chicken suitable for children?
Yes, Veg Chicken is a safe and nutritious option for children, especially those who follow a vegetarian or vegan diet.
5. Can I freeze homemade Veg Chicken?
Yes, you can store homemade Veg Chicken in the freezer for up to 3 months. Just thaw before using in recipes.
6. Can Veg Chicken be grilled or barbecued?
Yes, Veg Chicken can be grilled or barbecued just like traditional chicken. Marinate it with your favorite spices and sauces before grilling for a delicious smoky flavor.
7. Is Veg Chicken a complete protein source?
Yes, Veg Chicken is a complete protein source as it contains all the essential amino acids required by the human body.
8. Are there any allergens present in Veg Chicken products?
Veg Chicken products may contain soy and wheat, which are common allergens. If you have allergies, always check the product labels for allergen information.
9. Does Veg Chicken have a long shelf life?
Veg Chicken products typically have a reasonable shelf life when stored properly in the freezer or refrigerator. Always follow the manufacturer's guidelines for storage and use.
10. Can Veg Chicken be used in soups and stews?
Absolutely! Veg Chicken adds a savory and hearty element to soups and stews, making them more flavorful and satisfying.
11. Is Veg Chicken suitable for people with nut allergies?
Yes, Veg Chicken is nut-free, making it safe for individuals with nut allergies.
12. Can Veg Chicken be used in baking?
Yes, you can incorporate Veg Chicken in various baking recipes, such as pot pies and casseroles, for a meaty texture and taste.
13. Are there any preservatives in Veg Chicken products?
Some Veg Chicken products may contain preservatives to enhance shelf life. Always check the product labels for information on preservatives.
14. Does Veg Chicken contain genetically modified organisms (GMOs)?
Some Veg Chicken products may contain GMO ingredients. Look for certified non-GMO labels if you prefer to avoid genetically modified foods.
15. Can Veg Chicken be seasoned differently for various cuisines?
Absolutely! Veg Chicken is versatile and can be seasoned to match the flavors of different cuisines, such as Indian, Chinese, Mexican, and more.