In today's fast-paced world, the choice to adopt a vegetarian lifestyle is gaining traction for a variety of reasons. People from all walks of life are embracing this dietary change, and the motivations behind it are as diverse as the individuals themselves. Whether it's for health, environmental, ethical, or cultural reasons, the decision to go vegetarian is a personal one that can have far-reaching impacts. In this article, we'll delve into the main reasons why individuals are increasingly opting for a vegetarian lifestyle.
Read Also :- Disadvantages of Eating Non-Veg Food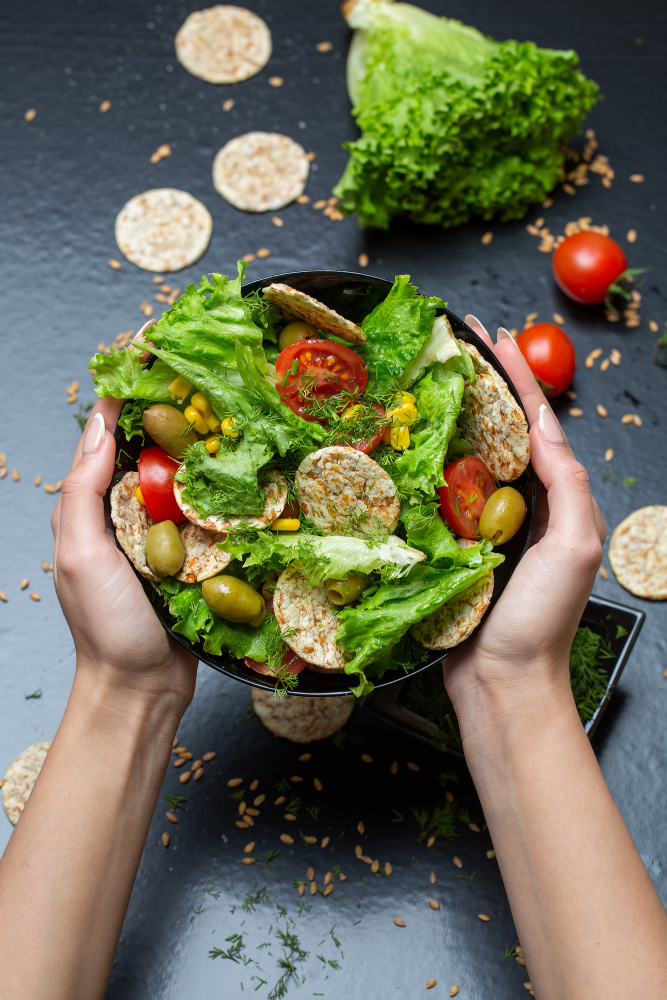 Health Benefits of a Vegetarian Lifestyle
Reduced Risk of Chronic Diseases
One of the primary reasons people choose a vegetarian lifestyle is the potential for improved health. Numerous studies suggest that vegetarians have a lower risk of developing chronic diseases such as heart disease, diabetes, and certain types of cancer. The abundance of fiber, vitamins, and antioxidants in plant-based diets contributes to overall well-being.
Vegetarian diets are often associated with weight management and even weight loss. By focusing on whole foods like fruits, vegetables, grains, and legumes, individuals can achieve and maintain a healthy weight more effectively.
Improved Digestion
Plant-based diets are naturally rich in dietary fiber, which aids in digestion and promotes a healthy gut. Reduced consumption of processed meats can also lead to a lower risk of digestive issues.
Lower Cholesterol Levels
A vegetarian diet tends to be lower in saturated fats and cholesterol, leading to improved cardiovascular health. This can result in lower blood pressure and reduced risk of heart-related ailments.
Environmental Considerations
Reduced Carbon Footprint
The environmental impact of meat production is significant, with livestock farming being a major contributor to greenhouse gas emissions. Choosing a vegetarian lifestyle can substantially reduce an individual's carbon footprint.
Conservation of Resources
Meat production requires vast amounts of water, land, and food resources for animals. By opting for plant-based foods, individuals help conserve these valuable resources and contribute to a more sustainable future.
Biodiversity Preservation
Deforestation for animal agriculture leads to habitat loss and threatens biodiversity. By supporting a vegetarian lifestyle, individuals play a role in preserving ecosystems and protecting endangered species.
Read Also :- Environmental Benefits of a Plant-Based Diet
Ethical and Moral Reasons
Animal Welfare and Rights
Many individuals choose vegetarianism as a way to express their concern for animal welfare. The ethical treatment of animals is a driving force behind this choice, as vegetarians oppose the suffering caused by factory farming practices.
Opposition to Factory Farming
Factory farming often involves cramped and inhumane conditions for animals, raising moral questions about the treatment of living beings. Vegetarianism allows people to protest against these practices and promote a more compassionate approach.
Cultural and Religious Influences
Spiritual Beliefs
Certain spiritual and philosophical beliefs advocate for compassion and non-violence, extending to the treatment of animals. Many individuals align their dietary choices with these principles by adopting a vegetarian lifestyle.
Cultural Practices
In various cultures, vegetarianism is deeply rooted in tradition. People may choose this lifestyle to honor their cultural heritage or religious practices, further enriching the diversity of reasons behind the choice.
Economic Considerations
Affordability
Contrary to the belief that vegetarian diets are expensive, they can actually be more affordable than meat-based diets. Staples like beans, lentils, and whole grains are often more budget-friendly options.
Sustainable Agriculture
Supporting vegetarianism can encourage the growth of sustainable agricultural practices, promoting local farming and reducing the reliance on large-scale industrial farming.
Breaking Myths and Addressing Concerns
Protein Intake
A common concern is obtaining sufficient protein on a vegetarian diet. However, with careful planning and a variety of protein sources like tofu, tempeh, nuts, and seeds, individuals can meet their protein needs.
Nutritional Balance
By embracing a well-rounded diet that includes a range of fruits, vegetables, grains, legumes, and nuts, vegetarians can ensure they receive all necessary nutrients.
Taste and Variety
Vegetarian cuisine offers an array of flavors and culinary experiences. From exotic spices to creative plant-based recipes, there's no shortage of delicious options to explore.
Tips for a Successful Transition
Gradual Approach
Transitioning to a vegetarian lifestyle doesn't have to happen overnight. Gradually reducing meat consumption and incorporating more plant-based foods can make the process smoother.
Balanced Diet Planning
Planning balanced meals is key to a successful vegetarian journey. Ensuring a mix of nutrients from different food groups helps maintain optimal health.
Exploration of Meat Alternatives
The market offers an impressive selection of meat alternatives, from veggie burgers to plant-based sausages. Trying these products can help individuals satisfy cravings while staying committed to vegetarianism.
Vegetarianism and the Next Generation
Positive Influence on Children
Parents who embrace vegetarianism often pass on healthy eating habits to their children. This early exposure to nutritious foods can shape children's food preferences and set the stage for a lifetime of wellness.
Shaping Eating Habits
Choosing a vegetarian lifestyle can prompt individuals to be more conscious of their dietary choices. This mindfulness can extend to making healthier choices in all aspects of life.
Conclusion
In conclusion, the decision to adopt a vegetarian lifestyle is motivated by a myriad of factors, each holding its own significance. Whether driven by health, environmental concerns, ethics, culture, or personal beliefs, individuals are finding compelling reasons to transition to a plant-based diet. As this trend continues to grow, so does the positive impact on individuals and the world at large.
Frequently Asked Questions (FAQs)
Is a vegetarian diet suitable for all ages? Yes, a well-planned vegetarian diet can provide adequate nutrition for people of all ages, including children and seniors.

Can I get enough protein from a vegetarian diet? Absolutely. Protein can be obtained from various plant-based sources, such as beans, lentils, tofu, and nuts.

What about vitamin B12? Vitamin B12 is primarily found in animal products, so vegetarians may need to consider fortified foods or supplements.

Will I lose weight on a vegetarian diet? Weight loss can occur on a vegetarian diet due to its emphasis on whole, nutrient-dense foods, but