Veg chicken is something that you can trust when it comes to having wholesome, economical, nutritious and flavorful meal. The yummiest version of non-vegetarian chicken recipe promotes veganism in so many ways. First of all, it is prepared using environmentally friendly techniques and secondly it does not involve animal killing at all. Plant based chicken recipes always make you healthy and happier always. You can quickly prepare it in the nonstick pan using little oil and nothing else. The veg chicken is absolutely finger licking and deserves a place in your kitchen definitely. The veg chicken recipe is so simple which you can make easily.
What is Vezlay Veg Chicken?
Vezlay Veg Chicken is an innovative plant-based product that tastes, feels, and looks like real chicken. It's made possible by new food technology that lets vegetarians, vegans, and people who care about their health eat something that tastes like chicken without giving up their values.
The Ingredients Behind the Magic
The Magic Ingredients Vezlay Veg Chicken is made from a mix of high-quality ingredients like soy protein, wheat protein, and natural spices. There are also used for Vegetable Protein (Soy), Wheat Protein, Wheat Flour, Rice, Gram Flour, Red Chilli Powder, Starch, Salt, Water, Spices & Condiments.
These carefully picked parts help give the product a realistic feel and flavor that tastes a lot like real chicken.
The Benefits of Choosing Vezlay Veg Chicken
Choices for a healthier way of life
Choosing Vezlay Veg Chicken is part of a better way of life. It doesn't have any cholesterol, bad fats, or dangerous ingredients that are often found in regular meat. This choice makes it less likely that you'll eat too much saturated fat and get heart disease.
Nutritional Facts of Vezlay Veg Chicken per 100g (Approx)
Full of proteins made from plants
There are a lot of plant-based proteins in Vezlay Veg Chicken, which are important for muscle growth and general health. Its high protein level makes it a great choice for athletes, people who like to work out, and anyone else who wants to eat more protein.
Also Check :-  Vezlay Veg Biryani
Vezlay Veg Chicken has a lot less calories and fat than its cousin made with chicken. This makes it a good choice for people who want to lose weight or eat a smaller meal that still fills them up.
Texture just like real chicken
The real feel of Vezlay Veg Chicken is one of its best features. Whether it's used in stir-fries, sandwiches, or curries, it gives the same feeling as biting into soft, juicy chicken, which both vegans and meat-eaters will enjoy.
Perfect for many kinds of food
The bland taste of Vezlay Veg Chicken makes it a good base for many different flavors and cuisines. It soaks up seasonings and sauces very well, so it can be used in a wide range of recipes from all over the world.
Ethical and Environmental Considerations
Contributing to Animal Welfare
When people choose Vezlay Veg Chicken, they help lessen the pain of animals. Less animals are raised and killed for meat because of the production of plant-based items, which is good for animal health.
Sustainable and good for the environment
Vezlay Veg Chicken is good for the earth because it uses less natural resources and leaves less of a carbon footprint than regular livestock farming. Choosing this option helps keep food production in a healthy way and slows down climate change.
Facts about Vezlay Veg Chicken
The vegetarian chicken recipe is always healthier and better than the non-veg food items you would pick up from the market. Here are some usual benefits of trying our vegan recipe and ditching the old-school non-veg food item –
chicken recipe is free from animals slaughtering and painful process
You Can enjoy the taste of the original non-veg chicken recipe at a very low price and effort.
Higher shelf life makes it possible to store the pack of readymade veg chicken in the refrigerator for a long time. In simple words, you can enjoy chicken recipes on your plate any time you feel like from now on
The nutritional value of vegetarian chicken is much higher. Moreover, it has plenty of dietary Fiber and a soluble fat that makes it an option for losing weight.
The presence of natural ingredients is again one reason why your health would benefit on having the recipe
The nutritious rich mock meat does not requires searing, sautéing, cooking, boiling or any other lengthy procedure. It is ready to eat just after stir frying on a nonstick pan for a couple of minutes. The best vegetarian recipe for non-veg lovers gives a good dose of nutrition. The meaty texture and genuine spices together makes the vegan chicken recipe worth consuming twice a week. You do not have to miss your favorite non-vegetarian recipes from now onwards. Veg chicken is a precious way to fulfill your desires in a holistic manner. In simple words, there would be no animal killing and yet it would be possible to quench your non-veg craving very well. The unique recipe from Vezlay can be used as a part of burger, fried rice, gravy based recipe and other items.
The world is severely suffering from Covid pandemic and we cannot afford to face the possibility of bird flu and animal flu anymore. We need to improve our immunity by going vegan absolutely. Veg Chicken recipe is a soy product that gives better immunity and strength instead of exposing you to any animal-based diseases. The original non-veg recipe is available in a vegetarian form to please your taste buds in the best way possible. MoreOver, you do not have to test your culinary skills in order to prepare the veg chicken recipe. unpack and toss on the pan; and it's done.
Why should we choose Vezlay Veg Chicken?
Now, a day there are so many other options for food products in the market it all depends on us which food product should we choose which is good for us or not and is the food is healthy for your health or not but here a product Vezlay Veg Chicken it's a product which is more beneficial for your body and health. This is a pure vegetarian product. Vezlay Veg Chicken is full of tasty and savory, peppery and mouthwatering products.
It is a more reliable product. This is pure vegetarian and has more effective ingredients than non-vegetarian food.
Why should we choose this Vezlay Veg Chicken for a good environment for our healthy future?
This product fills your satisfaction level it's like you want your dream that come true this is the product that become your dream in real this only happens in this product Vezlay Veg Chicken which will give you quality plus quantity both in one product.
Vezlay Veg Chicken is a time saver, this is already prepared you just have to cook it for a minute, and after that, it will look like wow what a product no hard work, and it looks good and the taste is awesome.
Vezlay Veg Chicken is like icing on the cake because it gives you so many different benefits in one product. Like;
1. Good texture
2. Beneficial for our healthy life
3. Good substitute for non-vegetarian food
4. Good for a healthy environment
5. It is good for a daily busy life or it's a time saver also.
What are ingredients present in Vezlay veg chicken?
The veg chicken is manufactured using soya plant extracts having organic nature. In other words, The manufacturing of soya plant is also free from any artificial fertilizer and chemical-based agricultural activity. The added flavor of spices, salt and water quickly give immense flavor to the ready-made chicken recipe. Forget the idea of ordering expensive food items from your favorite restaurant. Just order a pack of vezlay chicken recipe and quickly have the best food on your plate. The affordable and very nourishing meal would be your first choice whenever there is a craving to eat something good. The perfect evening snack and a very fascinating meal item, the veg chicken is something that is circulated between both vegetarian and non-vegetarian friends.
How do we prepare a Vezlay Veg Chicken recipe?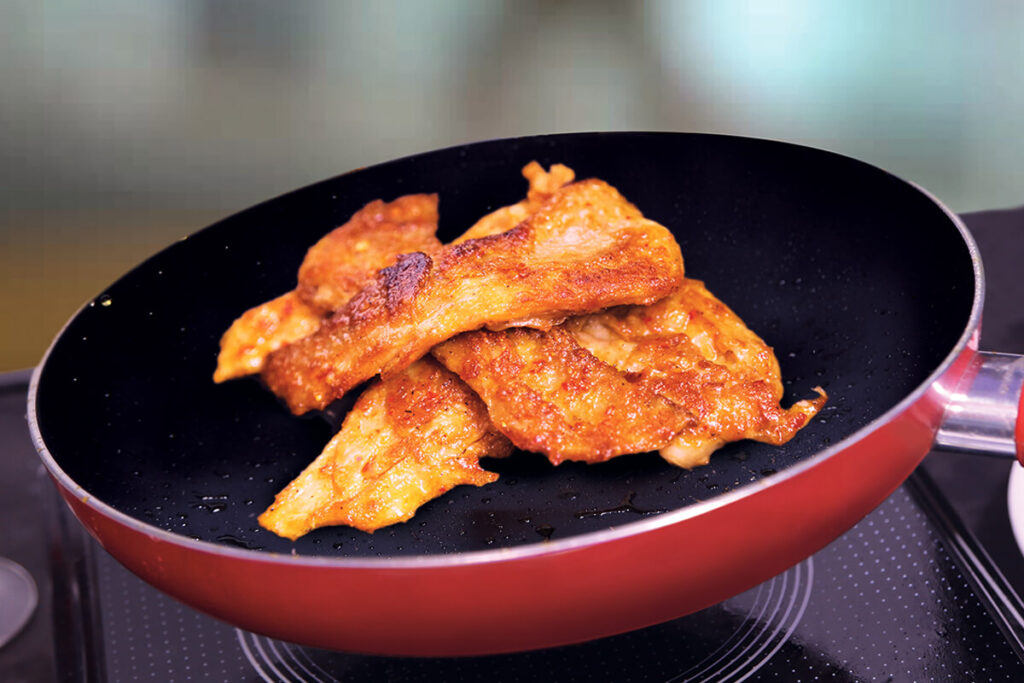 The tastiest vegan recipe has no hassles and difficult steps to be followed. Your meal can be very religious, humble and densely packed with nutrition from now on. All you need to do is –
Grab A pack of Vezlay Veg Chicken from Catchy Court
Let It Defrost
Take a fry pan with some oil in it
Now just sauté the chicken patty For a few minutes
The chicken patty is ready to be eaten as it is or you can use it as a part of certain recipes. You can add onions, ginger-garlic paste and more spices if you need to experiment something out of it. Also, you can use the same veg chicken patty as a part of burger or sausages to eat it as a snacking item. A single serving of veg chicken recipe from Vezlay can keep your tummy full for six hours.
The Protein-based mock meat recipe is very fulfilling and best for weight loss. The gluten-free vegan chicken deserves to be on the plate of every vegetarian and non-vegetarian food lover. It is a quick pick item for holidays and picnics where you cannot afford to take a lot of hassle in cooking. Apart from that, the users would be happy to know that there are no harmful preservatives added in the product as such. The natural ways of reservations have been used to increase the shelf life. Each pack of Vezlay chicken has a shelf life of 12 months. You can even stock the vegan chicken packets in your refrigerator and have them any time you feel like.
Veg chicken recipe number 1
Not all veg and chicken recipes are complicated and Time is taken. This one is also very easy and quick to prepare. You just need simple ingredients that are already present in your kitchen to begin with it.
Chickpeas
garlic and onion powder
dried thyme
veg chicken spice for seasoning
dried sage
nutritional yeast
Dijon mustard
 Blend all the ingredients like nutritional East ginger and garlic powder, chickpeas dried thyme coriander powder veg and chicken spiced dried sage and Dijon mustard in a food processor. You can add vegan chicken stock or simply water to create a paste.
 Everything should be super smooth and very good in texture.
You can prepare a vegan chicken stock either at home or simply purchase it from the grocery store. There are plenty of vegan chicken products available in the grocery stores nowadays, and you will be surprised by how well they taste.
Now, continuing to recipe, pour all the mixture in a bowl and the next step would be to add vital wheat gluten. It creates a very good texture and you would easily find gluten powder in various stores.
Mix everything very well using a spoon and then create a big ball out of everything kneaded. Make sure that you do not knead it for too long because that would take away all the stuff and make it become firm
Simply flatten out the dough admd cut into pieces on a cutting board
steam each for approximately 20 minutes
Cool them and your veg and chicken filets are absolutely ready. They are very good in taste already
The last step would be to add some butter on a frying pan and fry them until they become golden brown from both the sides.
Simple Veg Chicken recipe number 2
You can prepare a vegan chicken stock either at home or simply purchase it from the grocery store. There are plenty of vegan chicken products available in the grocery stores nowadays, and you will be surprised by how well they taste.
Lemongrass
Pepper one pinch
Palm sugar 1tb
8-10 basil leaves
Readymade veg chicken
Use ready-made veg chicken from the market
In a nonstick pan, add veg chicken along with lemon grass palm sugar basil leaves and pepper.
Cook the recipe for 5-10 minutes
Serve it hot
Choose vezlay chicken recipe as your quick pick meal item everyday. Whenever there are random guests and you have no idea what to prepare, Vegan chicken should be an Instant choice. Stock up the wide varieties of veg meat items from the brand to have a new taste every day. Veg chicken is astonishingly healthy and very amiable for every non-veg lover out there.
FAQs: Clearing Your Doubts
Is Vezlay Veg Chicken suitable for vegans?
Yes, Vezlay Veg Chicken is entirely plant-based and suitable for vegans, vegetarians, and anyone looking for meat alternatives.
How does Vezlay ensure the taste and texture?
Vezlay invests in research and development to create a blend of plant-based ingredients that mimic the taste, texture, and appearance of real chicken.
Where can I buy Vezlay Veg Chicken?
You can find Vezlay Veg Chicken at select grocery stores, health food markets, and online retailers.
Can Vezlay products be a part of weight management?
Absolutely! Vezlay Veg Chicken's low calorie and low-fat content makes it a great option for those focused on weight management.
Are there any allergens in Vezlay Veg Chicken?
Vezlay products are free from common allergens like dairy and nuts, making them suitable for individuals with various dietary restrictions.