Veganism has gained significant popularity in recent years, with more people embracing a plant-based lifestyle. In this article, we will explore what vegan food means and delve into the various aspects of this dietary choice.
Veganism goes beyond just a diet; it is a way of life that aims to exclude the use of animals for food, clothing, or any other purpose. People who follow a vegan lifestyle choose to avoid consuming animal products and by-products, including meat, dairy, eggs, honey, and even gelatin. Vegan food, therefore, refers to food that is entirely derived from plant-based sources.
Veganism is the practice of abstaining from the use of animal products. It is rooted in ethical concerns for animal welfare and the desire to minimize environmental impact. Vegans strive to live in a way that reduces harm to animals as much as possible.
Ethics and Environmental Impact
One of the primary reasons individuals choose veganism is their ethical stance against animal exploitation. By opting for vegan food, they aim to minimize their contribution to the suffering of animals raised for food production.
Furthermore, veganism also addresses environmental concerns. Animal agriculture has been linked to deforestation, greenhouse gas emissions, and water pollution. By adopting a vegan diet, individuals can significantly reduce their carbon footprint and help mitigate the environmental impact.
Health Benefits of a Vegan Diet
Apart from the ethical and environmental aspects, a vegan diet has been associated with numerous health benefits. Research suggests that well-planned vegan diets can provide all the necessary nutrients while reducing the risk of chronic diseases such as heart disease, diabetes, and certain types of cancer. Vegan food is typically rich in fiber, vitamins, minerals, and antioxidants, promoting overall well-being.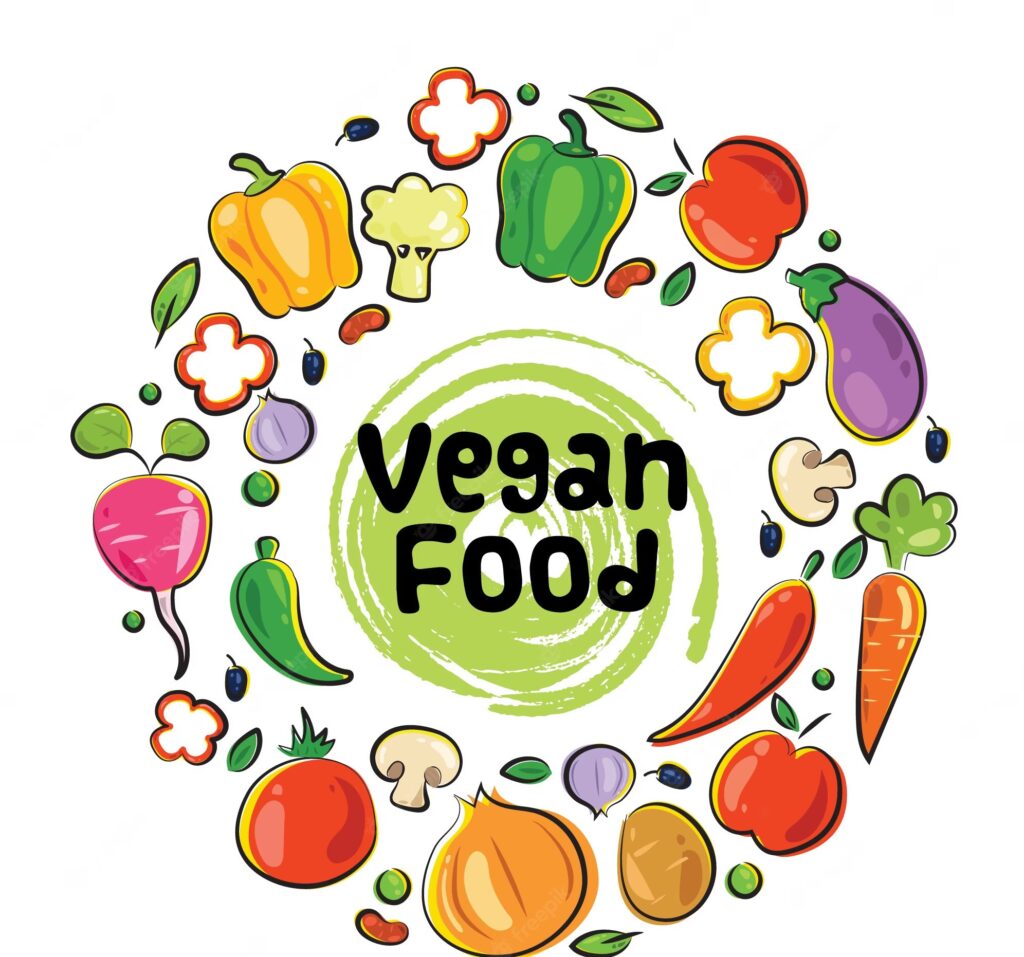 Exploring Vegan Food Options
When it comes to vegan food, the options are diverse and exciting. Here are some key categories of vegan foods:
Contrary to popular belief, vegans can obtain an adequate amount of protein from plant-based sources. Legumes, such as lentils, chickpeas, and beans, are excellent sources of protein. Additionally, tofu, tempeh, seitan, and plant-based protein powders offer alternative protein options for vegans.
Vegan diets emphasize the consumption of fruits and vegetables, which provide a wide range of essential nutrients, vitamins, and minerals. They are not only delicious but also contribute to overall health and well-being. From leafy greens like spinach and kale to vibrant berries and citrus fruits, the variety of flavors and textures in the plant kingdom is truly remarkable.
Whole grains, such as quinoa, brown rice, and oats, are staple foods in a vegan diet. They offer a good source of carbohydrates, fiber, and essential nutrients. Legumes, including lentils, black beans, and chickpeas, are also a vital part of vegan cuisine, providing protein, iron, and other micronutrients.
Nuts and seeds are not only a satisfying snack but also a great addition to vegan meals. They provide healthy fats, protein, and important minerals like magnesium and zinc. Additionally, plant-based oils like olive oil, avocado oil, and coconut oil can be used for cooking, adding flavor and nutritional benefits to dishes.
Popular Vegan Food Substitutes
To accommodate the growing demand for vegan options, a wide range of non-veg  food substitutes have emerged in the market. These alternatives aim to replicate the taste, texture, and even nutritional profile of animal-based products.
Plant-Based Milk Alternatives
Instead of cow's milk, vegans can choose from a variety of plant-based milk alternatives. Soy milk, almond milk, oat milk, and coconut milk are some popular choices. These beverages can be used in cooking, baking, or enjoyed on their own.
Vegan meat substitutes have come a long way in terms of taste and texture. Products like tofu, tempeh, seitan, and plant-based burgers have gained popularity among vegans and non-vegans alike. These options provide a satisfying alternative to traditional meat dishes.
For baking or cooking purposes, there are several vegan egg replacements available. Ingredients like applesauce, mashed bananas, flaxseed meal, or chickpea flour can be used as substitutes for eggs in various recipes.
Cheese and Dairy Alternatives
Cheese and dairy alternatives offer vegans the opportunity to enjoy their favorite dishes without compromising their dietary choices. Nut-based cheeses, such as cashew cheese or almond cheese, as well as plant-based yogurts and ice creams, provide creamy and flavorful alternatives.
The Rise of Vegan Restaurants and Products
As veganism continues to grow in popularity, the demand for vegan-friendly restaurants and products has skyrocketed. Vegan cuisine has evolved beyond basic salads and has embraced creativity and innovation in the culinary world.
Vegan restaurants around the world are offering diverse menus that showcase the versatility of plant-based ingredients. From gourmet plant-based burgers to decadent dairy-free desserts, these establishments are proving that vegan food can be both delicious and satisfying.
Not only are restaurants catering to the vegan market, but numerous food brands are also developing a wide range of vegan products. Supermarkets are now stocked with plant-based alternatives for almost every traditional animal-based product, including vegan cheeses, yogurts, ice creams, and ready-to-eat meals. Vezlay Foods is one of the best vegan food brand who is famous in whole India as their products like Shami Kabab, Seekh Kabab, Plant based Sausages, Soya Chaap and so more.
Veganism and Sustainability
Apart from personal health and ethical considerations, veganism also plays a crucial role in promoting sustainability.
Animal agriculture is a significant contributor to deforestation, water scarcity, and greenhouse gas emissions. By adopting a vegan lifestyle, individuals can reduce their ecological footprint and contribute to a more sustainable planet.
Veganism aligns with the ethical principle of promoting animal welfare. By opting for vegan food, individuals actively choose to minimize the suffering and exploitation of animals raised for food production.
Tips for Embracing a Vegan Lifestyle
Transitioning to a vegan lifestyle can be a rewarding journey. Here are a few tips to help make the process easier:
Meal Planning and Preparation
Planning meals in advance and preparing homemade dishes can ensure a well-balanced and satisfying vegan diet. Explore vegan recipes, experiment with different ingredients, and incorporate a variety of flavors into your meals.
Reading Labels and Identifying Animal Ingredients
When shopping for food, it's essential to read labels carefully to identify any animal-derived ingredients. Familiarize yourself with common non-vegan ingredients and learn to spot hidden animal products.
Finding Vegan Restaurants and Recipes
Discovering vegan-friendly restaurants and seeking out vegan recipes online can add excitement to your vegan journey. Many websites, blogs, and social media platforms offer a wealth of information and delicious recipes for plant-based meals.
Debunking Common Myths about Vegan Food
Despite the growing popularity of veganism, several misconceptions persist. Let's debunk some common myths surrounding vegan food:
With proper planning, a vegan diet can provide all the necessary nutrients. Plant-based sources can fulfill protein, iron, calcium, and omega-3 fatty acids requirements. Nutritional supplements can be taken if needed.
Vegan food offers an incredible variety of flavors, textures, and cuisines from around the world. The creative use of spices, herbs, and plant-based ingredients ensures that vegan meals are not only nutritious but also delicious.
Affordability and Accessibility
Contrary to popular belief, vegan food can be affordable and accessible. Basic vegan staples such as grains, legumes, fruits, and vegetables are often more budget-friendly than animal-based products. Furthermore, vegan options are becoming increasingly available in supermarkets and restaurants worldwide.
In conclusion, vegan food encompasses a wide range of plant-based options that are both nutritious and delicious. By embracing a vegan lifestyle, individuals contribute to animal welfare, environmental sustainability, and potentially experience positive health outcomes. Whether you're a vegan, curious about veganism, or looking to incorporate more plant-based meals into your diet, exploring the world of vegan food can be a fulfilling and enjoyable journey.