Optimize Your Liver Health Through Diet: 13 Essential Foods
The role of diet in maintaining optimal liver health cannot be understated. Numerous foods contain compounds that exhibit the ability to enhance liver enzymes, safeguard against fat accumulation, and alleviate inflammation and oxidative stress.
The liver, a vital organ, performs an array of functions, including the synthesis of proteins, cholesterol, and bile, as well as the storage of vitamins, minerals, and carbohydrates. It also plays a pivotal role in detoxifying substances like alcohol, medications, and metabolic byproducts. Ensuring the well-being of your liver is therefore paramount to overall health.
In this comprehensive article, we present an assortment of 13 foods for healthy liver that contribute to maintaining your liver in peak condition.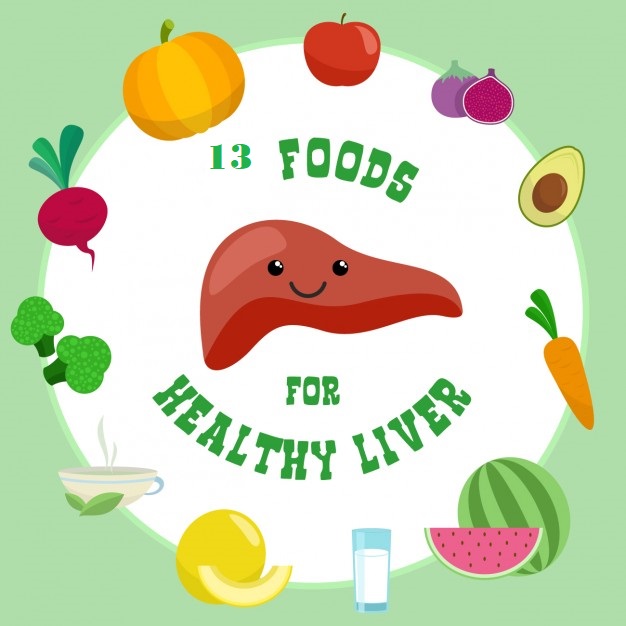 Elevating Liver Health with These Superfoods
1. Coffee: Revitalize Your Liver
Studies have consistently demonstrated that coffee consumption plays a pivotal role in promoting liver health. This remarkable beverage has exhibited protective effects against liver disease, even in individuals with existing liver health concerns.
For instance, a comprehensive research review conducted in 2016 revealed that regular coffee consumption decreases the risk of cirrhosis, a condition characterized by permanent liver damage, particularly in those with chronic liver disease. Additionally, coffee intake has been correlated with a reduction in the likelihood of developing common liver cancer types. The positive impact extends to liver disease and inflammation, with a substantial decrease in the risk of mortality among individuals with chronic liver disease who consume a minimum of 3 cups of coffee daily.
These benefits emanate from coffee's capacity to avert the accumulation of fat and collagen, the primary markers of liver disease. Moreover, coffee enhances glutathione levels, an antioxidant that counteracts detrimental free radicals capable of causing cellular damage.
2. Tea: Nurturing Liver Wellness
Tea, a renowned health elixir, exhibits specific advantages for liver health. An extensive review encompassing 15 studies in 2020 underscored the potential of green tea in diminishing liver enzymes in individuals with nonalcoholic fatty liver disease (NAFLD).
Research also indicates that green tea extract supplementation over 12 weeks substantially lowered liver enzymes, namely alanine aminotransferase (ALT) and aspartate aminotransferase (AST), in those with NAFLD. Furthermore, green tea consumers are less susceptible to liver cancer, with the lowest risk found among individuals who enjoy four or more cups daily.
However, it is prudent for individuals with liver issues to exercise caution when considering green tea supplements, as some instances of liver damage have been attributed to such supplementation.
3. Grapefruit: Nature's Shield for the Liver
Grapefruit boasts antioxidants that provide natural fortification to the liver. The antioxidants naringenin and naringin are prominent in grapefruit and contribute to its protective effects on liver health.
These benefits manifest through the reduction of inflammation and cell protection. Intriguingly, recent analysis in 2023 reveals that grapefruit antioxidants, particularly naringenin and naringin, display the potential to curtail the development of hepatic fibrosis, a harmful condition characterized by excessive liver connective tissue. While most studies on grapefruit antioxidants involve animals, the current evidence suggests that grapefruit consumption could mitigate damage and inflammation, supporting liver health.
4. Berries: A Bounty of Liver Benefits
Blueberries and cranberries are replete with anthocyanins, antioxidants responsible for their vibrant hues. Recent findings in a 2021 study established that cranberry supplements led to improved hepatic steatosis (fatty liver) in NAFLD patients over a six-month period.
Moreover, blueberry extract exhibited promising inhibition of human liver cancer cell growth in laboratory settings. While more research is warranted to confirm these effects in humans, integrating these berries into your diet ensures a consistent supply of essential antioxidants for optimal liver health.
5. Grapes: The Colorful Path to Liver Vitality
Certain varieties of grapes, especially those with red and purple hues, contain a wealth of beneficial plant compounds conducive to liver health. A rat-based study in 2020 suggested that grapes and grape juice offer diverse advantages, although further research is necessary to confirm their applicability to humans.
These advantages encompass diminishing inflammation, preventing cellular damage, and elevating antioxidant levels. While preliminary, this research underscores the potential of grape products for maintaining liver wellness.
6. Prickly Pear: The Resilient Cactus for Liver Support
Prickly pear, a renowned edible cactus, has a storied history in traditional medicine for addressing various conditions. Scientific exploration in 2016 showcased the plant's potential to alleviate hangover symptoms. Furthermore, the antioxidant and anti-inflammatory properties of prickly pear extend to safeguarding the liver from alcohol toxicity.
Human studies using prickly pear fruit and juice are essential to solidify these findings. Nevertheless, existing research presents a promising outlook for the positive influence of prickly pear on liver health.
7. Beetroot Juice: Harnessing the Power of Nitrates
Nitrates and betalains, potent antioxidants, infuse beetroot juice with remarkable health benefits. Animal studies demonstrate that beet juice combats oxidative damage and inflammation in the liver. While this holds promise, further research is requisite to affirm the potential of beetroot juice for enhancing human liver health.
8. Cruciferous Vegetables: A Crucial Component for Liver Wellness
Cruciferous vegetables, celebrated for their rich fiber content and distinctive taste, also harbor an array of beneficial plant compounds. Noteworthy examples include broccoli, Brussels sprouts, cabbage, kale, and cauliflower.
These vegetables showcase compounds that facilitate detoxification processes and shield the liver against harmful agents. A study in 2016 revealed that mice fed broccoli exhibited fewer tumors and fatty liver disease compared to a control group. While human studies are limited, cruciferous vegetables hold promise as allies in the quest for liver health.
9. Nuts: A Nutrient-Packed Boost for Liver Health
Nuts emerge as a nutritional powerhouse, boasting healthy fats, antioxidants, vitamin E, and beneficial plant compounds. A 2019 study established a direct link between a diet rich in nuts and a reduced risk of NAFLD. Though further high-quality research is required, preliminary findings point to nuts as a vital contributor to liver health.
10. Fatty Fish: Omega-3 Emissaries for Liver Wellness
Fatty fish, renowned for their omega-3 fatty acid content, offer an arsenal against inflammation, thereby decreasing the risk of heart disease. A comprehensive analysis in 2016 discovered that omega-3 fatty acids effectively curtailed liver fat and triglycerides in NAFLD and nonalcoholic steatohepatitis cases.
It's essential to strike a balance between omega-3 and omega-6 fatty acids, as an imbalanced ratio could exacerbate liver disease. Reducing omega-6 fat intake, which is prevalent in plant oils and butter, complements the beneficial effects of omega-3 fats.
11. Olive Oil: A Golden Elixir for Liver Wellness
Olive oil, celebrated for its myriad health benefits, extends its positive influence to liver health. A 2018 study identified a correlation between a Mediterranean diet rich in olive oil and a reduced risk of fatty liver in older adults. This is further corroborated by additional research demonstrating olive oil's efficacy in reducing liver fat accumulation and enhancing liver enzyme levels.
Olive oil's capacity to mitigate fat accumulation in the liver positions it as a valuable asset in preserving liver health.
12. Vegan Food good for Liver
Discover the benefits of a vegan diet in promoting liver wellness. Opting for vegan foods can provide your liver with a host of benefits. Plant-based choices like leafy greens, legumes, whole grains, and nuts offer an abundance of vitamins, minerals, and antioxidants that support detoxification and reduce inflammation. Say yes to vegan eating and nurture your liver naturally.
13. Plant Based Food good for Liver
Embracing a plant-based diet can be a prudent step towards nurturing your liver's vitality. Rich in antioxidants and essential nutrients, plant-based foods contribute to reducing inflammation, promoting detoxification, and supporting overall liver function. By incorporating an array of colorful fruits, vegetables, whole grains, legumes, nuts, and seeds into your diet, you provide your liver with the nourishment it needs to thrive. Opt for nature's bounty and make plant-based choices for a healthier liver and a vibrant you.
Read Also :- Benefits of Plant Based Food 
Fostering Liver Wellness Through Nutrient-Dense Foods
The path to enhanced liver health is paved with nutrient-dense foods that harbor antioxidants, curbing inflammation, mitigating oxidative stress, and shielding against cellular damage. Fiber-rich foods contribute to weight management and overall liver function, while protein and healthy fats present in certain foods hold promise for addressing conditions linked to liver disease, such as diabetes.
Holistic Approaches for Optimal Liver Health
Beyond dietary interventions, a holistic approach to liver health includes several crucial steps:
Maintain a Healthy Weight: Sustaining a moderate weight can mitigate the risk of NAFLD and bolster liver function.
Stay Physically Active: Regular exercise plays a pivotal role in reducing triglyceride levels and liver fat.
Monitor Alcohol Consumption: Excessive alcohol intake can detrimentally impact liver function, necessitating moderation as per CDC guidelines.
Practice Hygiene: Adhering to good hygiene practices, including handwashing, can thwart infections that jeopardize liver health.
Prioritize Barrier Methods: Embracing safe sex practices, including barrier methods, is instrumental in preventing hepatitis B and C transmission.
Nurturing your liver's well-being encompasses a comprehensive approach that marries dietary adjustments with overall healthy living practices.
Frequently Asked Questions (FAQs) – Optimizing Liver Health through Diet
Q1: What role does diet play in maintaining liver health?
Diet plays a crucial role in maintaining liver health. Certain foods contain compounds that can enhance liver enzymes, protect against fat buildup, and reduce inflammation and oxidative stress.
Q2: What functions does the liver perform in the body?
The liver has multiple functions, including protein synthesis, cholesterol and bile production, as well as storing vitamins, minerals, and carbohydrates. It also detoxifies substances like alcohol and medications.
Q3: How does coffee contribute to liver health?
Studies have shown that coffee consumption can protect the liver from disease. Coffee can lower the risk of cirrhosis and liver cancer, and it has positive effects on liver disease and inflammation.
Q4: What benefits does tea offer to liver health?
Tea, particularly green tea, has been associated with lower liver enzymes and reduced risk of liver cancer. However, caution should be exercised when using green tea supplements.
Q5: How does grapefruit promote liver health?
Grapefruit contains antioxidants like naringenin and naringin that reduce inflammation and protect liver cells, potentially preventing hepatic fibrosis.
Q6: What benefits do blueberries and cranberries provide for the liver?
Blueberries and cranberries contain antioxidants that improve hepatic steatosis (fatty liver) and may inhibit the growth of liver cancer cells.
Q7: How do grapes contribute to liver health?
Grapes, especially red and purple varieties, contain beneficial plant compounds that might lower inflammation and prevent cell damage. However, more research is needed to confirm their human benefits.
Q8: What advantages does prickly pear offer for liver support?
Prickly pear exhibits anti-inflammatory and antioxidant properties that could protect the liver from alcohol toxicity and manage hangover symptoms.
Q9: How does beetroot juice impact liver health?
Beetroot juice, rich in nitrates and antioxidants, has been shown to reduce oxidative damage and inflammation in the liver in animal studies, but further research is needed for human benefits.
Q10: Why are cruciferous vegetables beneficial for the liver?
Cruciferous vegetables like broccoli and cabbage contain compounds that support liver detoxification processes and protect against harmful agents.
Q11: How do nuts contribute to liver health?
Nuts are packed with healthy fats, antioxidants, and essential nutrients that have been linked to a reduced risk of nonalcoholic fatty liver disease (NAFLD).
Q12: What advantages do fatty fish offer for liver health?
Fatty fish rich in omega-3 fatty acids can reduce liver fat and inflammation, improving liver health. Maintaining a proper omega-3 to omega-6 ratio is also crucial.
Q13: How does olive oil positively impact liver wellness?
Olive oil's consumption is linked to reduced liver fat accumulation, enhanced liver enzyme levels, and various other health benefits.
Q14: What is the importance of nutrient-dense foods for liver health?
Nutrient-dense foods supply antioxidants that combat inflammation and oxidative stress, while fiber-rich options contribute to weight management and overall liver function.
Q15: What holistic approaches can I adopt for optimal liver health?
Alongside dietary changes, maintaining a healthy weight, staying physically active, monitoring alcohol intake, practicing good hygiene, and using barrier methods for safe sex contribute to overall liver well-being.