If you're new to the world of vegetarian or vegan options, you may find yourself wondering, "What is vegetarian chicken made of?" It's a valid question, especially if you're used to the traditional form of chicken that comes from animals. Luckily, there are plenty of alternatives available now that cater to those who choose a plant-based lifestyle. In this blog post, we will dive into the world of vegetarian chicken, exploring its ingredients, benefits, and how it can be used in delicious recipes.
Understanding Vegetarian Chicken: The Basics
To put it simply, vegetarian chicken is a meat substitute made entirely from plant-based ingredients. It's designed to mimic the taste, texture, and appearance of real chicken. This exciting innovation allows individuals who follow a vegetarian or vegan diet to enjoy the flavors they love without compromising their beliefs. Many people are attracted to vegetarian chicken not only because it is animal-friendly, but because it also offers numerous health benefits.
Also Check  :- Best Vegan Food For Childeren
Ingredients in Vegetarian Chicken
The ingredients used in vegetarian chicken can vary depending on the brand and the recipe. However, there are several common components found in most varieties:
Soy: Soy protein is often the primary ingredient in vegetarian chicken products. It provides a source of protein that helps give the substitute a meat-like texture while also supplying essential amino acids.

Wheat Gluten: Also known as seitan, wheat gluten is a fantastic ingredient when it comes to providing a meat-like texture. It has a chewy, substantial quality that many people appreciate.

Mycoprotein: Some vegetarian chicken products contain mycoprotein, a type of protein derived from fungi. It has a unique texture similar to chicken and offers a nutritional boost.

Legumes: Chickpeas, lentils, and other legumes often make an appearance in vegetarian chicken. These ingredients contribute to the protein content while offering additional fiber and beneficial nutrients.

Vegetable Oils: Sunflower, canola, or coconut oil are often included to provide moisture and enhance the flavors of vegetarian chicken products. They can add richness and vibrancy to the final result.
As a result, these ingredients, along with various seasonings and flavorings, produce a product that closely resembles chicken in flavor and texture. In order to meet the needs of vegetarians seeking a meat alternative, vegetarian chicken manufacturers aim to provide satisfying and enjoyable experiences.
Benefits of
Vegetarian Chicken
Vegetarian chicken brings several notable benefits to the table. Here are some reasons why you might choose this meat substitute:
1. Environmental
Impact
Choosing vegetarian chicken over real chicken can help reduce your carbon footprint. The production of livestock, including chickens, has a significant impact on the environment. By opting for plant-based alternatives, you can contribute to a more sustainable future.
2. Health
Benefits
Vegetarian chicken options are generally lower in fat and cholesterol compared to real chicken. They are also free from harmful additives, hormones, and antibiotics that can be found in conventional meat. Additionally, plant-based proteins are associated with a reduced risk of cardiovascular diseases and other health conditions.
3. Ethical
Considerations
For many people, the decision to go vegetarian or vegan is driven by ethical concerns about animal welfare. By choosing vegetarian chicken, you can enjoy the flavors of chicken dishes without contributing to the suffering of animals.
4.
Culinary Versatility
Vegetarian chicken offers endless culinary possibilities. From stir-fries and curries to sandwiches and salads, you can use vegetarian chicken as a substitute in any recipe that traditionally calls for chicken. Its versatility allows you to explore new flavors and experiment in the kitchen.
Cooking with Vegetarian Chicken
Now that we understand what vegetarian chicken is made of and its benefits, let's explore how it can be incorporated into your cooking.
1.
Stir-fry

Delights

One of the easiest and most flavorful ways to enjoy vegetarian chicken is by stir-frying it with your favorite vegetables. Toss it in a hot pan with some sesame oil, garlic, and soy sauce for a quick and satisfying meal. Pair it with a side of steamed rice or noodles for a complete dish.
2. Comforting
Curries
Vegetarian chicken is also a fantastic addition to curries. Its ability to absorb flavors makes it a perfect candidate for dishes like coconut curry or tikka masala. Combine it with aromatic spices and a creamy tomato-based sauce for a meal that will leave you wanting seconds.
3. Sandwiches and
Wraps
Whether you're packing a lunch or preparing a quick dinner, vegetarian chicken can make a delightful filling for sandwiches and wraps. Layer it with fresh veggies, sauces, and condiments of your choice. The result is a satisfying and protein-packed meal that you can enjoy on the go.
4. Salads and
Bowls
For a lighter option, consider adding vegetarian chicken to your salads and grain bowls. It provides a substantial protein source and adds a meaty texture to the dish. Toss it with your favorite greens, roasted vegetables, and dressings for a healthy and delicious meal.
Vezlay Foods Is The Best Vegetarian Chicken Company In India
Vezlay Foods Pvt. Ltd, is best vegetarian chicken manufacture company who manufacture the mimics of chicken which give similar taste of non vegetarian in pure veg. Vezlay veg chicken is healthy and tasty products. You can buy veg chicken from catchy court. They deliver veg chicken in Delhi and NCR.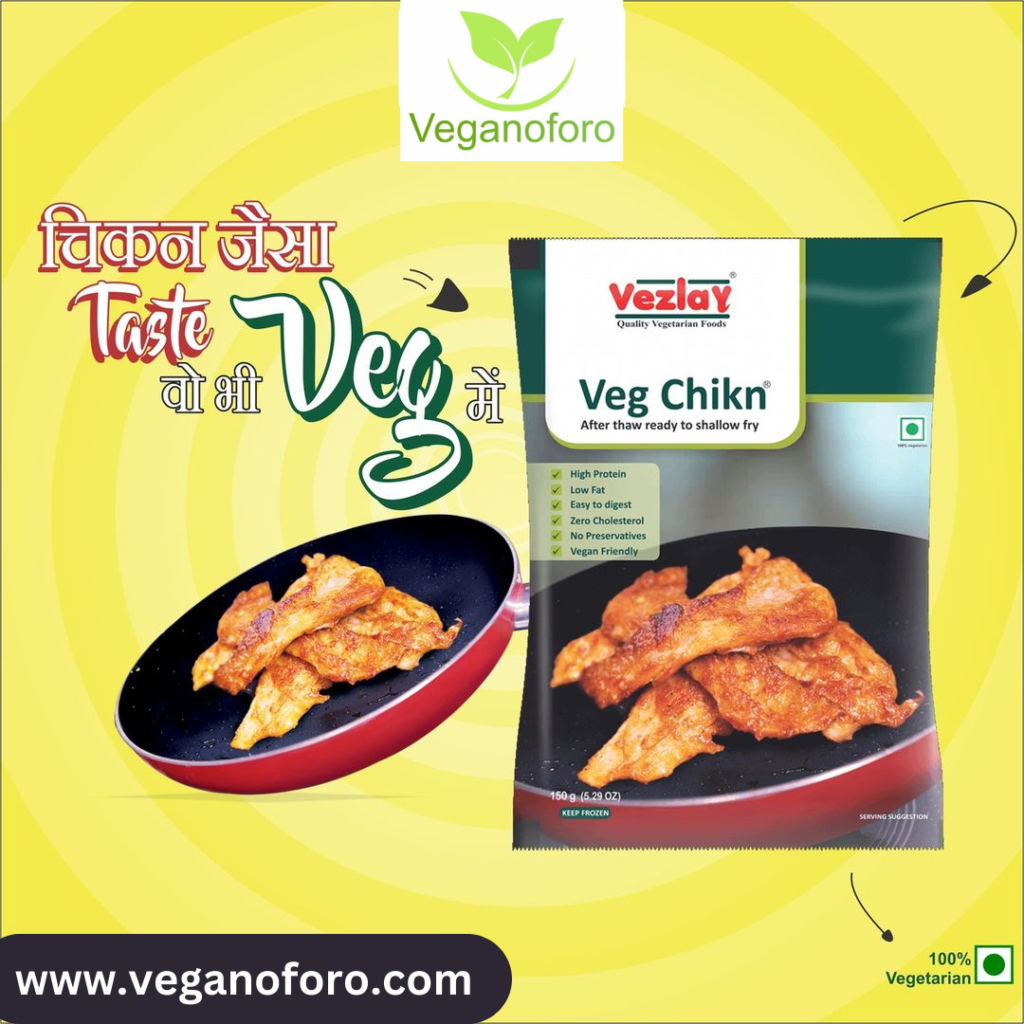 Vegetarian chicken is a versatile and delicious alternative to traditional chicken. Made from plant-based ingredients such as soy, wheat gluten, and legumes, it provides a satisfying meat-like experience for those following a vegetarian or vegan lifestyle. With its numerous benefits and culinary versatility, vegetarian chicken opens up a world of possibilities for creating flavorful, animal-friendly meals. So whether you're a seasoned vegetarian or new to the concept, consider giving vegetarian chicken a try and discover the joy of plant-based eating.